22 Jul 2014
The implementation of the Law 4178/2013, changed the status of transferring property rights significantly. With this legislative measure, the state transferred the responsibility and the cost of safeguarding the legality of a property from the competent services, firstly to the engineer and secondly to the notary. 
Till the enforcement of the law, the responsibility for the legality of the transfer was rather vague. On one hand the notary couldn't possibly know if the transferred property included illegal constructions, while the engineer was not even required at the property transfer procedure, but even if there was one, he was not obliged to check the legality of the property.
Under the 4178 status, before a property transfer contract is signed an engineer's certificate according to this law is required confirming that there is no building on the plot or that the building that exists and its use are in accordance with the  planning permission or (in case illegal constructions or uses are installed ) that any illegal constructions or uses that existed have been settled.
The engineer's statement must be accompanied by a topographical plan drawn according to the official coordinate system E.G.S.A.'87. Indicatively,  the certificate doesn't need to be accompanied by a topographical plan when the transferred property is within a city plan and a building permit has been issued till the 08/08/2013 or a contract of horizontal or vertical division has been signed, if it's located within the city plan for which the implementing act has been ratified or if is outside the city boundaries and it's not constructable according to its size.
In case a legalisation procedure has been carried out by the engineer, then in addition to the above,the engineer has to provide the notary a certificate of completion of the legalisation process, confirming that the legalisation penalty has been paid (full or 30% thereof) along with the plans where the illegalities settled are presented.
The certificate of the engineer is always accompanied by a declaration of the owner with the same content, about the absence of any illegalities on the transferred property.
The certificate of the engineer is not required in cases of inheritance acceptance acts.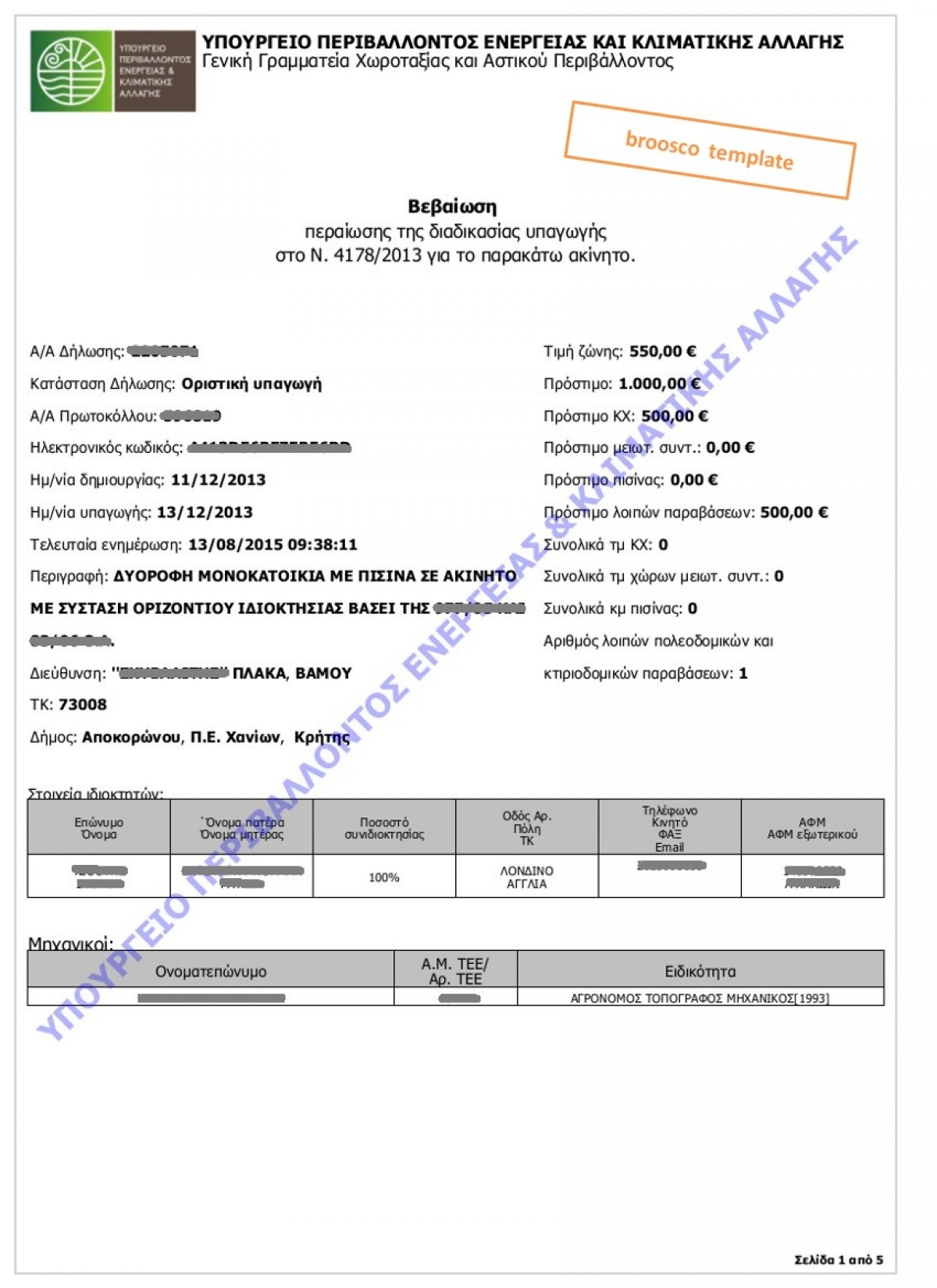 © 2014 - 2023 Broosco. All rights reserved
Related Articles
Don't miss the conversation!
Join us to get the information you need, straight to your inbox...
SIGN UP
Featured Properties
Properties
for sale
Latest Listings
Properties
for sale