14 Sep 2015
Emily Payne
Shy, directionless squeezing is not the way to bountiful buckets of milk. That's what occurs to me, high in the sweet and fertile heartland of Crete, as I try to get to grips with the ancient art of goat-milking.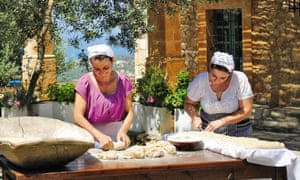 Retaining a purchase on the teat while avoiding being nipped or kicked demands a lot of concentration. But eventually, the liquid comes spurting out, hitting the tin bucket with a loud ping.
I'm at Agreco, a stone-by-stone replica of a 17th-century farm in Adele, a village in the hills above touristy Rethymno, on Crete's north coast. It has a dairy, a watermill, an olive press, beehives and 11,500 vines – and visitors are invited to come and play farmer for the day.
Crete's economy once relied on fertile plains and mountains. Now these areas attract those looking for a dose of country living; agritourism is on the rise, with farm stays and hands-on rural experiences popping up all over the island.
Open to members of the public for day visits, farm tours and dinner, Agreco was created in 2002 by Nikos Daskalantonakis, founder of the Grecotel hotel chain, as a tourist attraction and to encourage local farmers to use organic methods to grow produce for the area's hotels.
Depending on the season, wannabe farmhands can tread grapes in an old stone vat, harvest wheat, help make olive oil, bake bread in a wood-burning oven and pick vine leaves for dolmades. Down below, on the main drag of Rethymno town, tourists mill, postcards gather dust and the sea laps the sand. Up here, where I'm "working", tiny Byzantine monasteries cling to the mountains, thyme and mint sway in the breeze and birds twitter.
Don't miss the conversation!
Join us to get the information you need, straight to your inbox...
SIGN UP
Featured Properties
Properties
for sale
Latest Listings
Properties
for sale