01 Jul 2019
While the market is the main factor that will dictate the price and the timeframe in which you will sell your house, there are some things you can do to provide your property a competitive advantage. In this article we will try to present the advantages of having your house painted before you put in on the market for sale.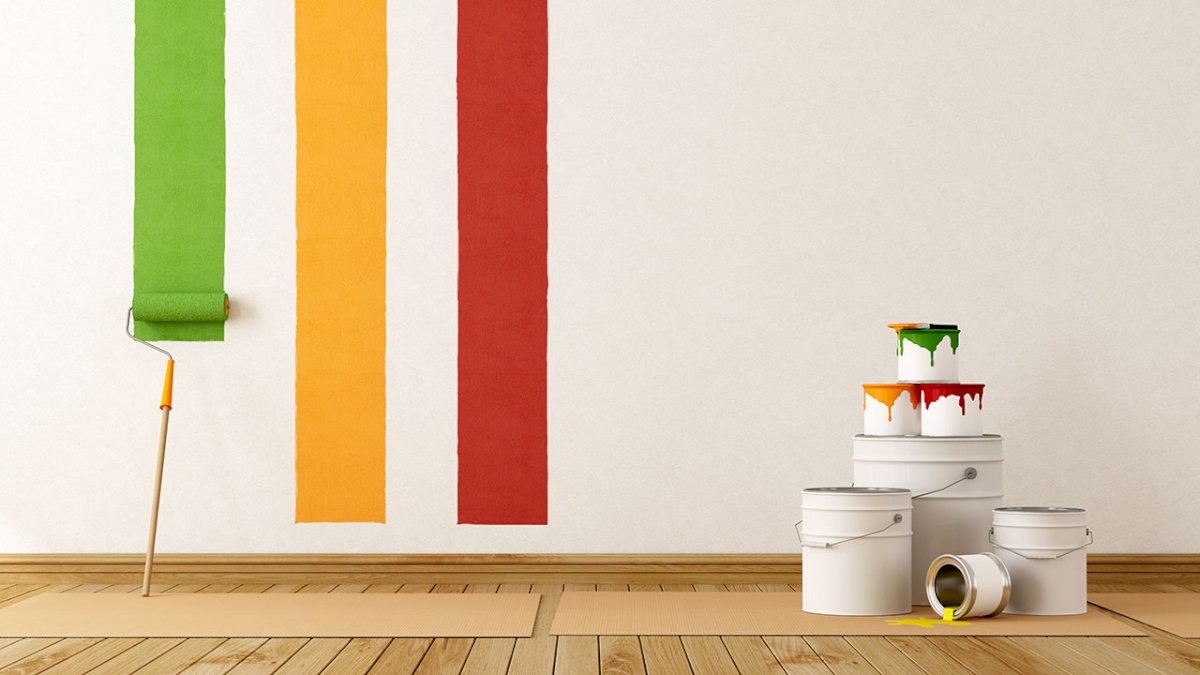 Repairs with the high Return on Investment

When it comes to selling your home, obviously you'll want to ensure that you sell it for the best price possible and within a reasonable timeframe. The real estate market is always fluctuating but for the time being, at least in Crete, it seems to favor the buyers. While the market is the main factor that will dictate the price and the timeframe in which you will sell your property, there are still some things you can do to provide your property a competitive advantage and ensure that your home is as well-presented as possible. In this article we will try to explain why you should have your house painted before you put in on the market for sale.
First impression of the buyer

Some of the home buyers accept the existing paint without too much thought. Others when they come to view your home, they are looking for things to complain about, which are actually reasons to negotiate the price and offer a lower bid. Can you blame them? Buying a house is not a simple thing. For both types of buyers, a good first impression is vital for the sale. A clean look of fresh paint can help the home buyers realize that you have been taken care of properly your property and they will feel safer with their decision to buy for the years to come. Badly maintained houses or those with unpleasant, out of fashion, bold paint colors have a negative effect to the home buyers, often cause them to make a lower offer or just look elsewhere.
Interior & Exterior painting

A new coat of paint is one of the cheapest improvements you can make to your home that will make it more appealing to buyers. Both exterior and interior appeal of the property is important for the sale. Of course if you are selling an apartment in a block of flats, obviously there are not many things you can do for the exterior. But in case you are selling a detached house, where the decision is up to you, both interior and exterior paint jobs can lead to great return on investment. Water stains, blemishes or cracks on the wall surface are buyer's nightmare because they cannot realize if it's something easy to fix or it's a permanent construction issue. So make sure you repair once and for good such issues because, though they might not result in a higher sales price, they will help the sale. Painting the ceilings is a little more challenging than painting the walls, but it completes the look and ensures that everything looks nice and clean. You also need to take care of the wooden parts of your property. Wood in Cretan architecture is a very popular material e.g. wooden beams decorating the ceilings or entirely wooden ceilings, wooden floors indoors, wooden beams used in pergolas outdoors etc. If you finally decide that you don't need to paint the whole house, try at least to repair specific areas that suffer from constant sun or moisture.
Peak the right colors

It is also very important to select your colors carefully. A wall color can actually make a huge difference in the overall look of a space. Light and bright paint colors make a room seem larger and more open, whereas dark tones give a cramped and enclosed feeling. A purple blue colored bathroom might be your favorite, however many prospective buyers may not agree with you. Neutral colors are easiest to accessorize with furniture and paintings and make your home easier to sell. The grey trend is still very much alive this year, whether that be in kitchens, living areas or bathrooms. Also bear in mind that top quality paints will help you obtain a better covering and long term performance of the paint.
Cretan Villas for sale

If your property is a high end villa, you need to realize that the competition for this type of properties in Greece and particularly in Crete is rather strong. When a buyer decides to buy a villa in Crete, he may have priorities like the sea views, the distance to the beach, the house maintenance etc but these factors pale in comparison to the feeling the buyer gets the first time he or she steps into your villa. To make a long story short, the expectations of the villa-buyers in Crete are more than high and if you really want to achieve a fast sale the best price possible, it's critical to have your property perfectly maintained with updated and attractive decor, both indoors and outdoors. Your property manager should be well-qualified to tell you what exactly you need to do to make your home more marketable. Alternatively you can ask your agent, he is also aware of current buyer trends in your area and can help you pick colors and styles that buyers are looking for.

In future articles we will try to give more information about repairs that have immediate effect on the sale and provide a good return on Investment when you are trying to sell your property.
© 2019 - 2023 Broosco. All rights reserved
Don't miss the conversation!
Join us to get the information you need, straight to your inbox...
SIGN UP
Featured Properties
Properties
for sale
Latest Listings
Properties
for sale