10 May 2015
2015 may not be the end of the world as we know it, but one thing is perhaps certain: it's the end of the free-fall in prices home owners have suffered the past years. Nationally since 2007, home prices have dropped about 45%, in the hardest hits areas 55% or more. In 2014 prices fell slightly compared to 2013 and for 2015 they seem to stabilize. According to the Bank of Greece, for properties near the sea real estate agents reported a slightly price rise. However average house prices are back to 1999 levels, two years before Greece adopted the euro as official currency and entered the Eurozone.
As shown in the tables below, right after entering the Eurozone home prices in Greece rose significantly, especially in 2001 and 2002. The years after the Athens Olympics another boom is noticed, facilitated by the increased demand for second homes and holiday villas, especially in Greece's southernmost and biggest island, Crete. Since 2008 the home prices are falling while a sharp drop is noticed in year 2012 (-12%). Today the Greek real estate bubble is fully deflated.
Many economists believe that the stabilization of house prices is essential to economic recovery and stability. Cutting costs as well as new structural reforms are already implemented by the Greek governments through the last 4 years. Combined with the forecasts for Greece's GDP and national debt for 2016-2020 which they appear to be promising, it is not unreasonable to say that hopefully by the end of 2015 Greece will become again an economically stable country.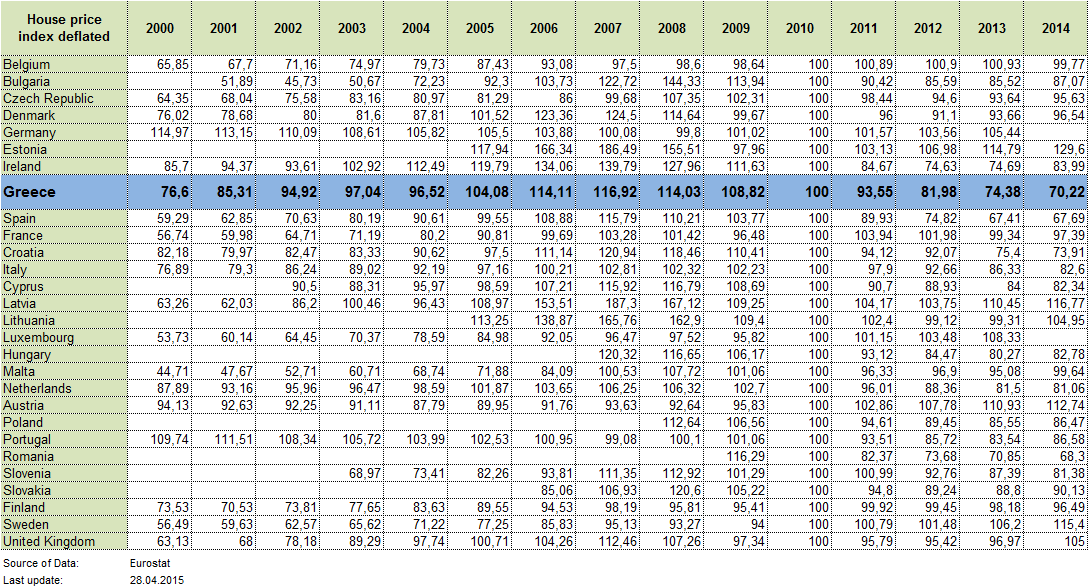 © 2015 - 2023 Broosco. All rights reserved
Related Articles
Don't miss the conversation!
Join us to get the information you need, straight to your inbox...
SIGN UP
Featured Properties
Properties
for sale
Latest Listings
Properties
for sale